Meet with a Consultant Online over Videoconference
---
Want to talk with a consultant about your piece of writing but can't make it to the Writing Center? No problem.
Through our appointment system, you can work with a writing consultant anywhere you want (as long as it has a decent internet connection and you have a mic). We call these Online Videoconference Appointments.
Once you are in the appointment system, select the appropriate schedule from the drop-down menu (either "Undergraduate Student Appointments" or "Graduate Student Appointments")
Find an available appointment time that works for you and your schedule - remember, for videoconferences you must attend the appointment in real time. Click on the available appointment to select it. 
In the appointment form window, in the block that says "Meet Online?" select "Yes. Schedule Videoconference Appointment."
You can optionally upload a copy of your draft or any related materials at the bottom of the appointment form. This is not required for a Videoconference appointment. 
Check over the information you provided, then click "Save Appointment."
A few minutes before your appointment time, log back into the appointment system.

We strongly encourage writers to use Mozilla Firefox or Chrome browsers to avoid technical difficulties.

Find your appointment and click on it to open up the Appointment Form.
Click on "Start or Join Online Consultation."
Your consultant will join you online at the start of the consultation.
You must have a working microphone to talk with your consultant, and you can also use video and text-chat.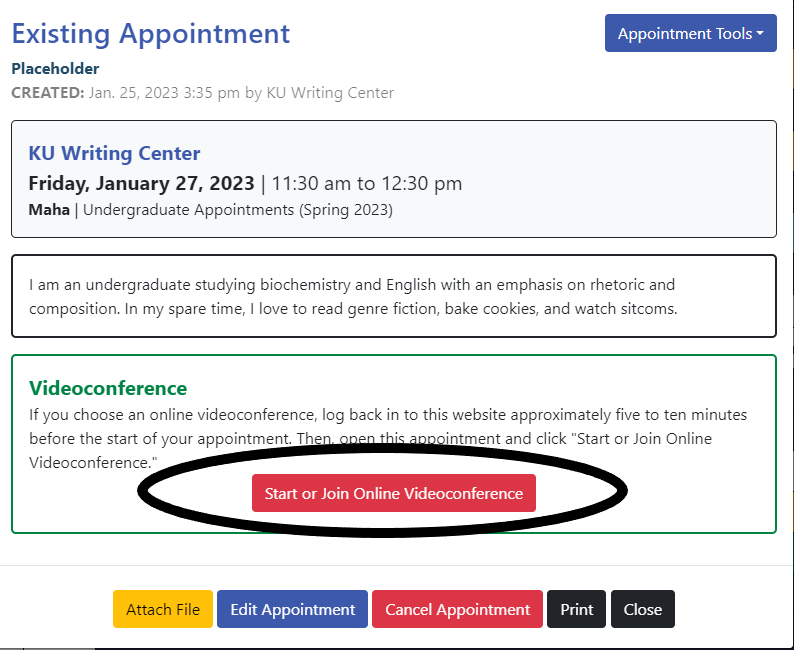 Policies to Know
Technology Requirements: 
For Online Video Consultations, you'll need access to a good internet connection. You'll also need a computer that has a microphone and camera so you can meet with your consultant and have a real-time conversation about your writing.
Because these are interactive, collaborative appointments, please make sure you join your videoconference appointment in a setting in which you can focus and engage in a professional, school-related conversation.
Provide the Assignment: 
Because good writing (and writing feedback) is contextual, it is crucial that we know the requirements and goals of the writing assignment. You must provide a detailed description of the assignment or writing project in order to receive feedback. This information enables the consultant to tailor feedback to your project's requirements. Please note that submissions that do not include an assignment description will be returned without feedback.